04 / 07 / 2017
Greek Business Champion Award for Inventor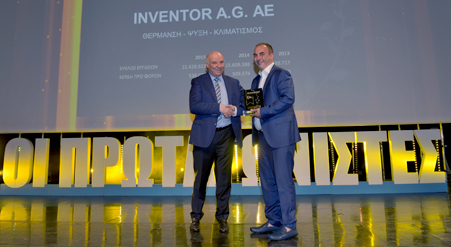 Inventor A.G. S.A. was among the "Greek Business Champions", that was awarded in the framework of the "Leaders of the Greek Economy" as a company that managed to increase its turnover by more than 20% over the last two years, 2013-2015, while at the same time increasing its profits 50%.
Inventor A.G. S.A., is one of the fastest growing companies in the field of air conditioning and electrical appliances, that managed to establish itself in the Greek market, counting already 50 successful years. It has emerged among Greek Business Champions thanks to its outstanding performance, with the ultimate goal of meeting the needs of its customers, offering products of unrivaled quality and unique design all over the world.
Mr. Assimakopoulos said about this award
"This award is the recognition of Inventor's people continuous effort, for high quality products and services, so as for our customers, who have been trusting us over the years and are our driving force to enjoy the most out of this commercial relationship, which is determined by trust and growth!

This award is our motive to continue offering high quality and high-end technology products, ensuring a healthy environment and comfort for every house or business."

G. Asimakopoulos

CEO
Businesses that in the last years of the economic crisis in Greece managed not only to survive, but to remain profitable and to grow, have been promoted and rewarded in the event "Leading the Greek Economy", organized by the Direction Business Network on Monday 15 May 2017, under the aegis of the Ministry of Economy and Development and SEV - Hellenic Federation of Enterprise
In the 3rd consecutive official "Greek Economy Stage" event, more than 550 senior executives from the Greek business environment attended and shared views and suggestions on restarting the economy and returning to growth. Mr. Evangelos Papalyos - director of the Direction Business Network, in his welcome speech, pointed out that:
"Companies that will show the way of recovery and they will lead the new era in the Greek economy are awarded. Those are the companies that fought in the years of the greatest recession that our country met after war and emerged as real actors."