18 / 01 / 2016
Inventor makes "Smiles" even bigger!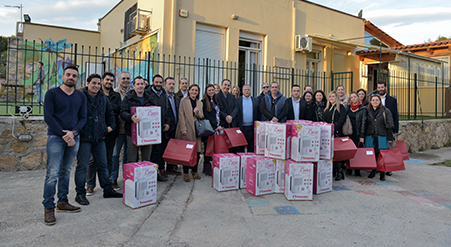 The well known company of air conditioners and electric appliances equipped the community homes of the Organization with dehumidifiers contributing to an even better environment for the children who live and grow up there.
A donation of 20 dehumidifiers to The Smile of the Child was accomplished by the air conditioning and electric appliances company «Inventor» in the context of a scheduled visit to the community home at Melissia. The Dehumidifiers donated, are going to improve even more children's quality of life who live and grow up in the Organization's community homes, offering them a pleasant and healthy atmosphere.
Company's employees had the chance to meet the children who live in Melissia's community home, spend a few hours with them and give them presents that they have bought and were carefully chosen so as to give joy to the kids.
A very important part of the visit was the presentation by people who are in charge in «The Smile of the Child» about the multilevel actions of the Organisation and the variety of the voluntary programs that are provided for those who want to participate and get involved with their help.
The cutting edge Inventor's dehumidifiers remove the humidity form windows, walls, floor and bedding contributing to a better respiratory system's operation preventing any allergy transfer. By this effort, Inventor wants to show how encourages the sustainable development and the principles of solidarity and social care that should be constantly pointed out with no exceptions.