29 / 09 / 2020
Benefit from smart solutions in your place!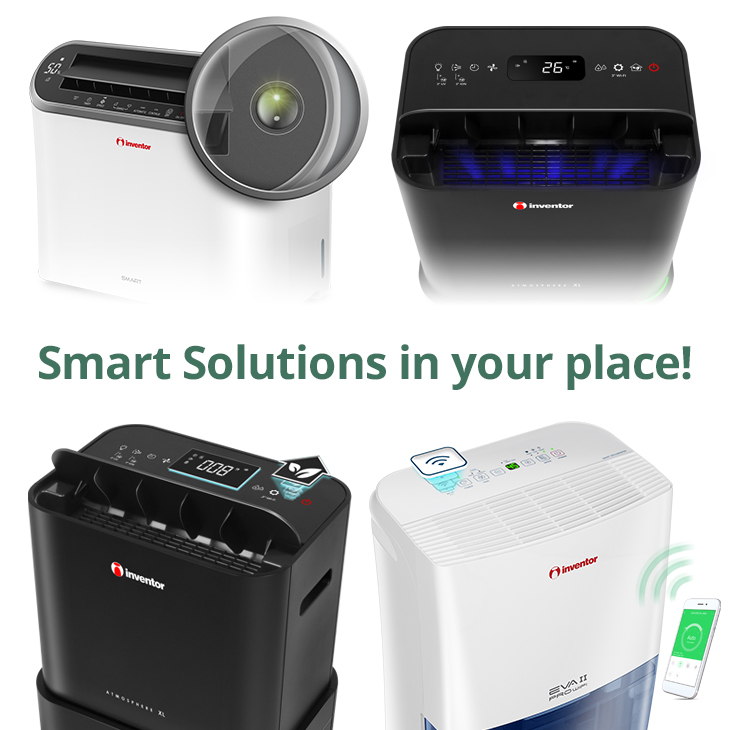 ...with Inventor dehumidifiers!
Enjoy truly fresh air in your place relieved of dust, microbes, malicious microorganisms and humidity of course and save time & energy by ensuring dry clothes effectively and economically and operating the appliance from anywhere you are.
• Wi-Fi
Remote control of your device wherever you want at any time through your smartphone that transforms into a smart remote control. Save energy & secure the ultimate control of the device without your presence!
• UV Lamp
The ultraviolet light of the UV lamp breaks the molecules of the microorganisms such as germs, viruses, fungi and bacteria that might be in the device, offering healthy atmosphere in your place.
• Clothes Drying Sensor
Ensure dry clothes immediately, effectively, and financially! The Clothes Drying Smart Sensor detects wet clothes and directs the air towards them, reducing drastically the time they need to dry and saving energy and money.
• Autonomous Air Purifier Function
Enjoy a healthy environment free of dust, allergens, viruses, germs e.t.c. The HEPA filter of the appliance restrains a big part of the small particles and offers you a clean atmosphere in your place.
Take care of you and your beloved by ensuring the most ideal conditions of a pleasant and fresh atmosphere that allows you to carry on with your everyday activities with the best prerequisites!