13 / 06 / 2017
Life Pro A+++ Air Conditioner, with new ECO refrigerant R32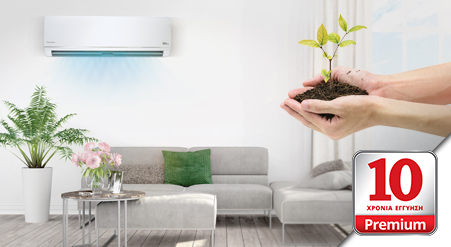 Ensure healthy atmosphere, reliable performance and reduce maintenance cost with the new Life Pro air conditioner series.
Life Pro air conditioner series 9.000/12.000/16.000/18.000/24.000 btu/h combines innovation and high energy savings thanks to the highest energy class A+++ and next-generation R32 refrigerant.
R32- NEW ECO REFRIGERANT
Protects the environment
Reduces maintenance costs
Offering upgraded levels of comfort in your place
Does not adversely affect the ozone layer
Contributes to reducing the global warming phenomenon
COMFORT
Achieve ideal conditions wherever you are thanks to the smart sensor which is located on the remote control of Life Pro and eliminate the unwanted moisture in the indoor unit thanks to the Blow Xfan Mode.
Follow Me
A smart sensor is located on the remote control. When the Follow Me function is activated, the temperature is synchronized with the smart sensor, offering ideal conditions wherever you want to.

Blow Xfan Mode
Eliminates the unwanted moisture in the indoor unit, during cooling operation. After turning off the air conditioner, the indoor unit's fan will keep running for a while to dry the unit.
CLEAN ATMOSPHERE
Enjoy healthy, pure and odorless air free of bacteria thanks to the Plasma Ionizer and the Powerful Self-Cleaning operation.
Powerful Self-Cleaning
With a touch of a button on the remote control, your air conditioner cleans itself.
The process only takes 17 minutes and when it is finished, the unit is ready to be used again. Easily, you can maintain the unit clean, free of bacteria and fungi while enjoying fresh and healthy air.

Plasma Ionizer
Creates air nutrition improvement while provides a clean atmosphere free of odors and bacteria.
The Plasma Ionizer effective absorbs 90% more bacteria by expelling more negative ions.

The air conditioner series Life Pro can assure comfort and healthy atmosphere to you and your family.