08 / 08 / 2014
New Product – Glass Panel Electric Heater G3INV-20DT 1.000W/2.000W with ionizer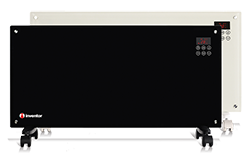 We are presenting you the new Glass Panel Electric Heater G3INV-20DT 1.000W/2.000W with ionizer.
The ionizer removes polluting air particles in an effective way, creating a healthy, safe and quiet environment. The digital thermostat offers control of the temperature and energy saving. Available with remote control, LED Display, 24 hours programming and child safety lock.
In white or black color with moving wheels for easy moving, including wall brackets for an easy installation on the wall or in the floor.
A product that will meet your needs for heating in the winter and will decorate your home with its luxurious design!