13 / 06 / 2017
Aria & Nemesis – High Technology Air Conditioners with Wi-Fi Standard!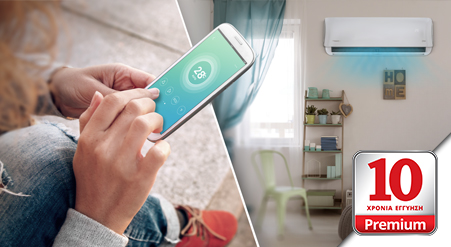 The upgraded high-technology features of Aria & Nemesis air conditioners ensure a clean and healthy environment, while provide absolute comfort when you want it, no matter where you are.
SMART Wi-Fi STANDARD TECHNOLOGY
Enjoy ideal conditions in your room, no matter where you are and save energy thanks to the smart Wi-Fi Standard.
Control your air conditioner easily from wherever you are, ensuring optimal temperature conditions with great energy savings whenever you want, by setting the air conditioner remotely with your Smartphone or Tablet.
Free download the Invmate II application from Google Play & App Store and enjoy all the benefits which the air conditioner's remote management could provide:
Easy to Operate
Multiple Choices
Sleeping Curve
Check Diagnosis
Weekly Planner
The smart Wi-Fi function for remote management is now available from the very first time you turn on the air conditioner!
The air conditioners Aria, Nemesis and Passion Pro II provides ideal conditions in your room, no matter where you are, through your Smartphone or your Tablet.
Aria
The Aria air conditioner series combines elegance and ECO consciousness, thanks to the new ECO refrigerant R32, which:
Provides higher comfort levels
Protects the environment
Reduces the maintenance costs
Contributes to minimizes the global warming potential
Moreover, the Green Fin protects the outdoor unit, while improves the performance and withstand the salty air, the rain and any other corrosive elements.
Nemesis
The Nemesis air conditioner series is a technological miracle because provides to you and your family:
Follow Me function for ideal conditions wherever you are
The set temperature synchronizes with the smart sensor, which is located on the remote control, providing extra comfort and energy savings.

Excellent Heating Performance at -25°C increases the heating capacity by 47%
Ideal choice for mountainous areas with low temperatures thanks to the special design of the outdoor unit.
Ensure air nutrition improvement at your area thanks to the Ionizer Filter, High Density Air Dust Filter, Triple Action Filter, Sterilization HEPA filter and Plasma Ionizer that the Aria & Nemesis air conditioner series provide to you and your family.
The Aria & Nemesis air conditioners could be an ideal choice for clean atmosphere and energy saving, accompanied with high-end technology!!