20 / 12 / 2017
New Passion ECO air conditioners series with R32, A+++, Wi-Fi & Ionizer Filter!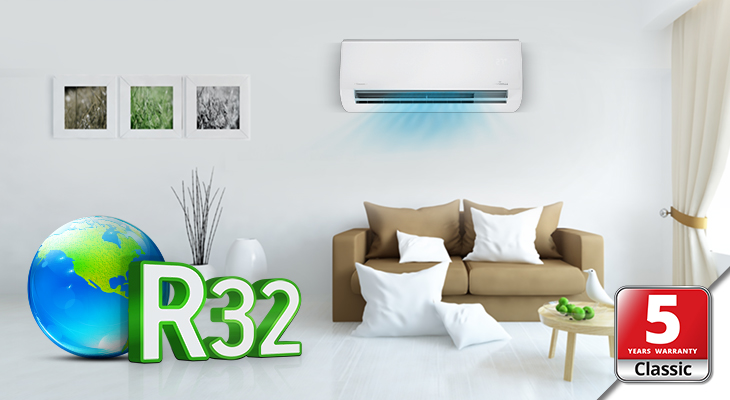 Discover tomorrow's technology …TODAY, with the new Passion ECO air conditioners series and enjoy ideal conditions with the most efficient and eco way.
The new series of 9.000/12.000/18.000/24.000 btu/h are the evolution of the successful Passion Pro series and equipped with the highest energy class A+++, smart Wi-Fi technology and new eco refrigerant R32.
UPGRADED TECHNOLOGY
R32 – New Ecological Refrigerant
The new R32 ecological refrigerant contributes in reducing global warming with 68% lower global warming potential, while minimizes the maintenance costs of the unit:
Protects the environment
Does not adversely affect the ozone layer
Contributes to reducing the global warming phenomenon
Reduces maintenance costs
Offering upgraded levels of comfort in your place
Golden Fin
The superiority of this series is highly connected to the new Golden Fin coating that is included in the outdoor unit and guarantee high protection against damage, even under the most difficult weather conditions, preserving the maximum performance of the unit and allowing you to reap all the benefits for a bigger amount of time.
SMART TECHNOLOGIES
Wi-Fi Standard Achieve ideal conditions and great energy savings thanks to the smart Wi-Fi operation.
Download for free the Invmate II application via Google Play & App Store and control your climate in your area, easily from wherever, only with a touch of your Smartphone or Tablet.
The remote management of your air conditioner provides:
Easy handling

Multiple choices

Ideal sleep conditions

Check Diagnosis

Energy savings
Central Control
Set up to 64 air conditioners from one and only controller and adjust any setting and operation of the air conditioner.
Hotel Menu
Set the maximum and minimum temperature of your air conditioners thanks to the Hotel Menu service which is a comprehensive air conditioners' solution for every hotel.
COMFORT
Take advantage of the wide range of modes, the new Passion ECO series offer and ensure absolute comfort in your place.
Follow Me: Achieve extra comfort wherever you want to, thanks to the smart sensor which is located on the remote controller.
CLEAN ATMOSPHERE
Ionizer Filter
The ions released in the air, offer you a fresh and clean atmosphere, by capturing dust and smoke, ensuring wellness and high-quality room conditions.
Passion ECO is here to offer exceptional conditions, smartly, efficiently and in the most ecological way!