11 / 03 / 2013
New Product – Mini Bar Refrigerator Energy Class A+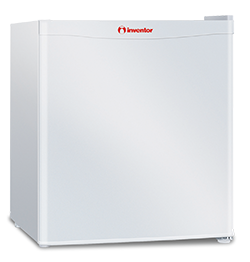 Inventor, after 47 years of experience in the field of air conditioners and having proved the reliability of the brand and the products that represents, develops the product range in the field of refrigerators.
The refrigerator Mini Bar INV-06FSDMB4 is the ideal solution for business premises (offices, shops, etc.), but also for applications in tourism businesses (hotels, rooms, etc.). Simultaneously it could meet the additional needs of each home
The mini fridge Mini Bar INV-06FSDMB4 having very low power consumption, ranked in energy class A+ . It has a capacity of 42 liters and its dimensions, 439x510x470 mm, are making it easy to place even in very small spaces.