13 / 06 / 2017
Omnia Plus – Value for Money Luxury A+++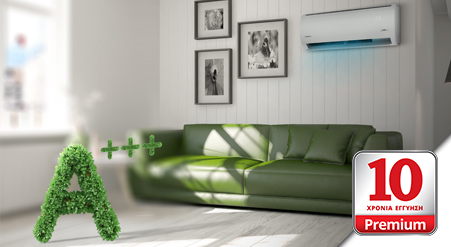 By choosing intelligently the new Omnia Plus air conditioner series, achieve saving even more energy!
Ensure optimal performance & energy saving, thanks to the highest energy class A+++ of the Omnia Plus series 9.000/12.000/18.000/24.000 btu/h.
HEALTHY ENVIRONMENT
The new domestic air conditioners Omnia Plus provide healthy atmosphere free from odors, microbes and dust to you and your family, thanks to the:
Sterilization HEPA filter:
This filter removes even the smallest amount of dust from the air, while eliminates germs and reduces the chance of allergies and diseases.

Triple Action Filter with Vitamin C, Cold Catalyst and Silver Ion which protects your skin and improves the air.

Vitamin C:
Increases collagen production while provides filtered air which softens the skin and reduces stress.
Silver Ion:
Eliminates the existing bacteria and germs in the air, while provides fresh odorless air, helping to prevent mold.
Cold Catalyst:
Absorbs odor and harmful gases from the environment.

Superpower Ionizer:
Destroys odors, dust and smoke, while creating a clean and healthy atmosphere thanks to the produced ions.
SMART Wi-Fi TECHNOLOGY
Enjoy ideal temperature conditions whenever you want and save energy, thanks to the Wi-Fi Ready.
Set the air conditioner easily from wherever you are through your Smartphone or your Tablet.
Free download the Invmate II application via Google Play & App Store.
Enjoy the comfort it offers with additional energy savings.
The Omnia Plus air conditioners are a value for money luxury, which you must offer to yourself and your family!