13 / 06 / 2017
Super quite air conditioner Passion Pro II, with smart Wi-Fi and triple action filter!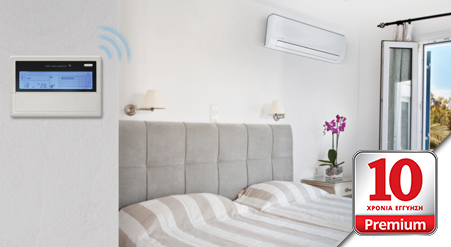 Enjoy ultimate comfort and clean atmosphere, while saving energy with the new Passion Pro II air conditioners.
The Passion Pro II air conditioner series 9.000/12.000/18.000/24.000 btu/h are here to impress with their excellent performance and the highest energy class A+++.
SMART FUNCTIONS
Wi-Fi Standard:
Achieve ideal conditions and great energy savings thanks to the smart Wi-Fi operation.
Download for free the Invmate II application from Google Play & App Store and control your climate in your area, easily from wherever you are, with just a touch of your Smartphone or Tablet.
The remote management of your air conditioner provides:

Easy handling
Multiple choices
Ideal sleep conditions
Check Diagnosis
Energy saving

Central Control:
Set up to 64 air conditioners from one and only controller and adjust any setting and operation of the air conditioner.

Hotel Menu:
Set the maximum and minimum temperature of your air conditioners thanks to the Hotel Menu which is a comprehensive air conditioners' solution for every hotel.
COMFORT
The Passion Pro II series offers excellent cooling and heating conditions, thanks to its innovative design and advanced features, such as:
Follow Me:
Achieve extra comfort wherever you want to, thanks to the smart sensor which is located on the remote control.

Easy Clean:
Save 50% on cleaning time of the indoor unit with the easy removable filters, that can be pulled out without opening the air conditioner's panel.

Easy Installation:
Save 20% time on installation, due to strong installation plate and cupboard of the Passion Pro II.

4 Way Air-Flow:
Enjoy ideal conditions even to the most difficult spots of the room, thanks to the even distribution of air in all directions.

Powerful Self-Cleaning:
With a touch of a button, maintain your air conditioner clean, free of bacteria and fungi.
The Passion Pro II meets even the most demanding needs. For all of you who have passion for perfection!